Biography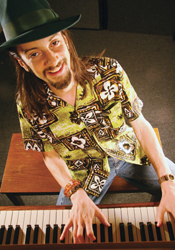 Trevor Justice is and award-winning songwriter and speaker, real estate investor, and advertising copywriter who created an online school out of thin air. In short, he's an entertainer with real world business experience.
His songs have inspired tens of thousands to laugh, cry, and heal. And his sales copy has generated millions for his clients.
Raised by a struggling single mom and bad at sports, Trevor was always the last picked for sports teams in gym class. He had to mow lawns and deliver newspapers to buy the same things his friends got for free… like a moped, TV, video games, and name brand clothes. But this taught him to be enterprising.
After college, he spent three years doing inside sales for Amdahl Education. Then bucking the safe reasonable path, he left his job, built a network marketing downline of 270 distributors, and created the audio training program "Trade Secrets Of The Ninja Network Marketer", which he sold through full page magazine ads.
While still in his 20's, he got his music performed by the Cleveland Chamber Symphony, bought his first home with no money down, and became a high paid advertising copywriter.
In his 30's, Trevor's compelling ad copy increased sales for Robert Allen (author of "Nothing Down"), real estate guru Dave Lindahl, and Canada's #2 Re/Max agent at the time, Terry Paranych.
He was also invited to join a musical theater workshop led by Maury Yeston (composer of the musicals Nine, Grand Hotel and Titanic). He bit the bullet, gave up his rent-controlled apartment in Berkeley, California, and moved to New York City for four years.
And despite being a "nobody" in Nashville, his repeated trips, guts, and persistence there led to writing songs with multi-platinum hit songwriters.
In 2005, he bought a triplex in California. When the housing market crashed a few years later, and his home was "underwater", Trevor jeopardized his lifelong good credit to negotiate with his lenders.
Although he had no guarantees, he settled his second mortgage for 10% of the balance and cut his first mortgage payment in half. Since then, he's leveraged his equity into several multi-family properties in the San Francisco Bay area.
Taking yet another risk in 2009, he turned one of his passions—vegetarian health—into an online school. As founder, he authored the ebooks "Supercharge Your Health With Whole Foods" and "The Secret To Being Fit Forever".
The Vegetarian Health Institute now has 60K+ email subscribers and occasional 6-figure months. Not to mention raving testimonials from many customers who reversed disease and deficiency, thanks to what they've learned. He sold the company in 2017.
Today, Trevor's keynote concerts inspire network marketers, real estate agents, and other entrepreneurs to reconnect with their dreams. His uplifting songs pull at their heartstrings, sweeping them away with emotion, in a way that's not possible through speaking alone.
He also does music ministry at Centers for Spiritual Living all around the U.S., uplifting congregations with songs about loving and forgiving yourself, having faith, going for your dreams, and making a difference.