Inspirational Speaker and Marketing Trainer Inspires Experts and Solopreneurs To Become Millionaires
Empower your audience to turn their expertise into high-profit online programs. Inspire them to face their fears, take bigger chances, and become millionaires.
Trevor Justice is an award-winning motivational business speaker, Certified Customer Value Optimization Specialist, and self-made millionaire. (See his three programs below.)
Trevor has made millions for clients like Aweber, Mypoints, and Robert Allen who authored the NY Times bestseller "Nothing Down".
He also founded and sold an online school, largely thanks to his million dollar advertising copy, automation, and effective delegation. Book Trevor today, and show your attendees how to scale their businesses just like he did.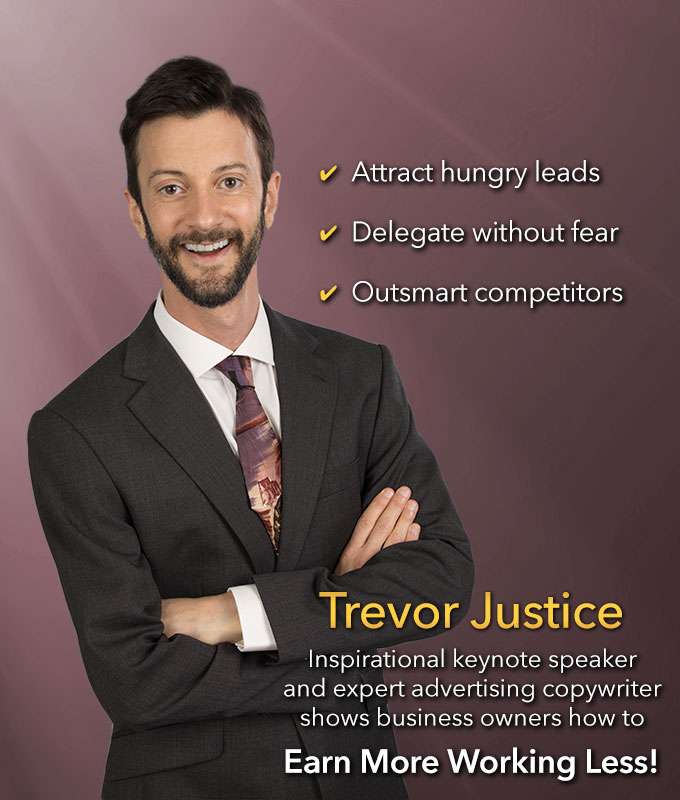 Program #1: Earn More Working Less: Leverage For Solopreneurs
Do your attendees juggle everything by themselves – networking, marketing, self-promotion, admin work, etc. – leaving little time for making sales?
That's poor time management and kills work life balance. They need better entrepreneur skills!
Trevor inspires them to stop being penny wise and dollar foolish. He shows them why and how to advertise, delegate and automate. Takeaways:
Effective delegation; get positive ROI from hiring team members so it's a profitable investment, not an expense.
Turn inquiries into pre-sold qualified leads with ads and online videos, so prospects choose you, not your competitors.
Get ongoing referrals from business owners who sell to your prospects.
Discover why doing everything yourself costs you more money than it saves.
Be inspired to advertise, delegate, and automate before losing potential clients, referral sources, and opportunities to your competitors.
Program #2: Six Figure Passion: Turn Your Expertise Into High Profit Online Programs
Why keep trading hours for dollars when you can collect $20,000+ per month from thousands of people – like Trevor did – for the same amount of work it takes to serve a few?
With your own membership website, information product, or online program, people all over the world can learn from you. They can access your content at their leisure, so distances and time zones become irrelevant.
You have nothing to buy, warehouse, or ship. Zero hard costs. That means all the money you collect is yours to keep. Your audience will learn how to: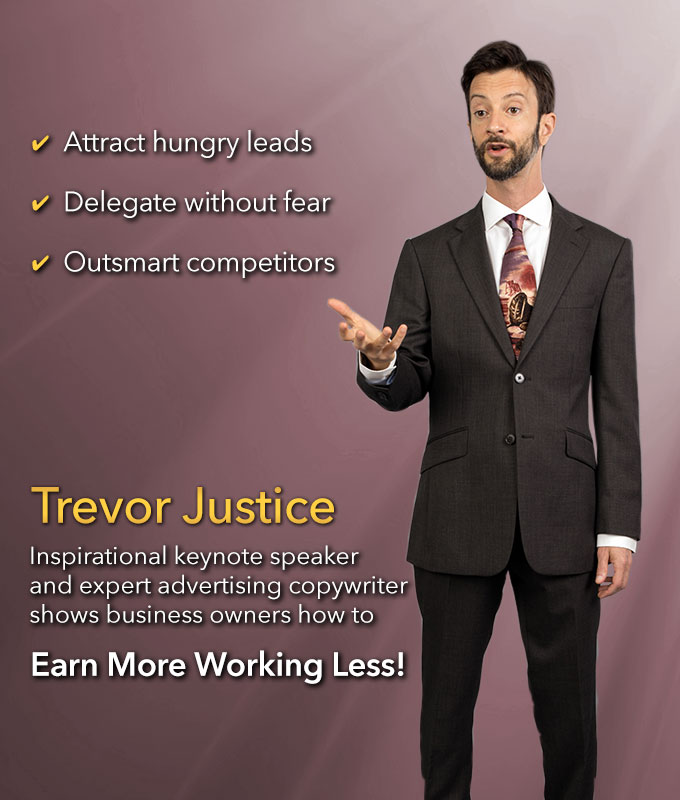 Turn your expertise or passion into a membership site, information product, or online program that's guaranteed to sell.
Rack up sales while you sleep.
Attract worldwide audiences.
Create just one lesson, and then get hundreds of people to sign up for a monthly subscription before you develop the next one.
Earn six figures while traveling the world – just like Trevor did – without employees, inventory, or fulfilling orders!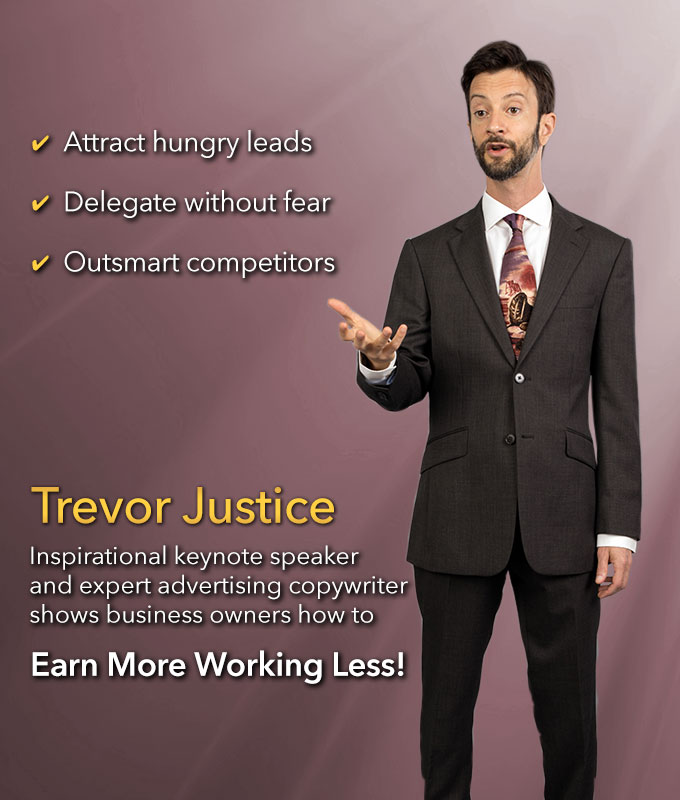 Program #3: Luck Favors Risk Takers (Keynote Concert)
Emotion drives your audience to say YES. If you're a transformational leader, Trevor will turn more of your audience into high ticket clients. They'll feel a new sense of urgency, realizing the cost of not taking chances.
With inspirational songs, humor, and riveting stories about courage, Trevor's Trevor's quintessential motivational speech on overcoming fear pulls at their heartstrings in a way other speakers can't. It renews their enthusiasm, breathes new life into their ambitions, and wakes them up for your breakout sessions. Takeaways:
Realize the opportunity cost of waiting…
Feel the confidence and courage to act quickly and decisively…
Be inspired to grow your business before losing referral partners, market share, and opportunities to your competitors…
Discover five risk/reward questions for choosing the right path to your goals…
Overcome procrastination by putting yourself on the hook. (Because goal setting rarely works when there are no hard consequences for missing the deadlines!)
Slay your fear of rejection, overcome your fear of failure, and become a millionaire, just like Trevor did.