Inspirational Speaker and Real Estate Trainer Shows Your Agents How To Attract Hungry Prospects And Earn More In Less Time
Planning your real estate conference? Want to improve agent retention, increase sales, and help your agents skyrocket their sales?
Then enhance your lineup of real estate trainers with Trevor Justice, an award-winning business motivational speaker, Certified Customer Value Optimization Specialist, and self-made millionaire. (See his three programs below!)
Trevor has made millions for clients like Aweber, Dave Lindahl, Robert Allen who authored the NY Times bestseller "Nothing Down", and Terry Paranych, who was the #2 Re/Max agent in Canada before he retired.
He also founded and sold a company, largely thanks to his million dollar advertising copy, automation, and effective delegation. Now he empowers your agents to scale their businesses just like he did.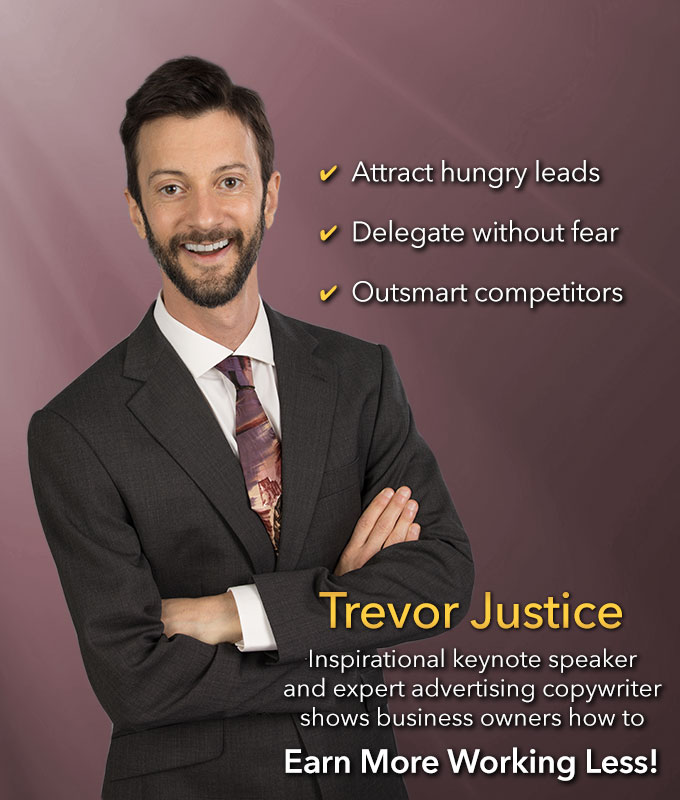 Program #1: Earn More Working Less: Leverage For Real Estate Agents
Do your agents juggle everything by themselves – networking, self-promotion, marketing, and admin work – leaving little time for making sales? That's poor time management and kills work life balance. They need better entrepreneur skills!
Trevor inspires them to stop being penny wise and dollar foolish. He shows them why and how to advertise, delegate and automate. So they claim more real estate listings and market share. Takeaways:
Effective delegation: get positive ROI from hiring team members so it's a profitable investment, not an expense.
Save time and get prospects to choose you (instead of competitors) using online videos.
Discover why doing everything yourself costs you more money than it saves.
Discover the real lifetime value of a client, and why advertising is a bargain by comparison
Be inspired to advertise, delegate, and automate before losing clients and referral sources to your competitors…
Program #2: Attract Motivated Homeowners, Buyers, and Investors
Hunting for prospects one by one eats up valuable time. And worse, the fear of rejection makes some agents procrastinate.
That's why advertising is a Godsend. It's efficient, scalable, and drives motivated prospects to your agents – so they're not limited to door knocking and networking.
It can flood your agents with real estate listings, increase sales, and renew confidence. Just like it did for Trevor's client Terry Paranych, who was the #2 Re/Max agent in Canada before he retired.
But there's one problem: most ads are inadequate. Prospects don't know why your agents are better qualified than other real estate agents. So they turn cold when your agents try reaching them.
Solution: Before your event, Trevor will create a Unique Selling Proposition for all of your real estate agents, giving you and your agents an unfair advantage. He can also create custom-written ads that will flood your agents with inquiries. Takeaways: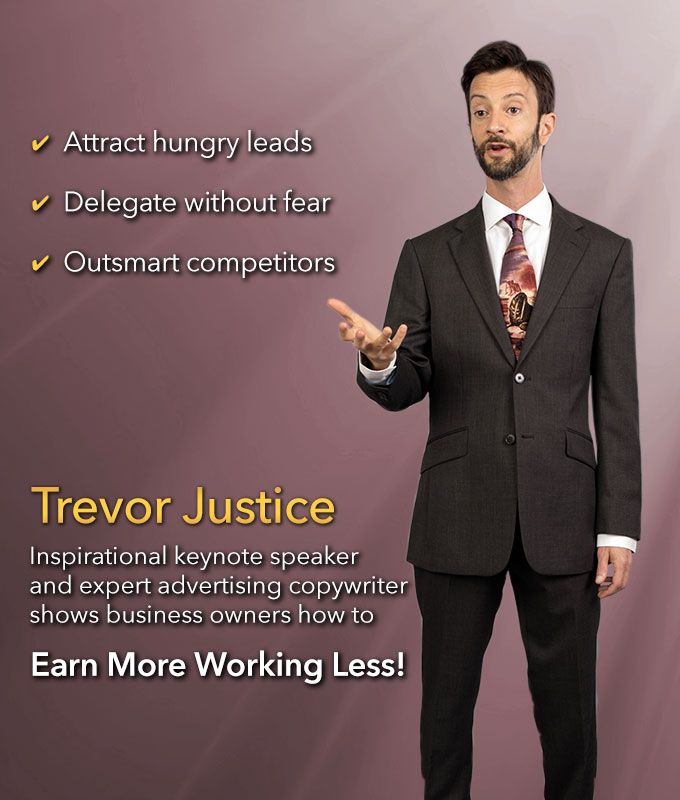 Set your agents apart with a Unique Selling Proposition (USP) that lays your competitors to shame.
Get more returned calls from Internet leads and double your closing ratios.
Get more referrals from attorneys, loan officers and brokers, and property management companies.
Get homeowners to see why you command the highest prices.
Get buyers to see why you find the best deals.
Skyrocket the ROI from your advertising
Reach highly motivated homeowners and investors before your competitors do… leading to piles of new listing agreements and exclusive buyer agency agreements.
Even your most timid agents will be eager to start an advertising campaign, once they realize that the lifetime value of a client dramatically outweighs the cost of advertising.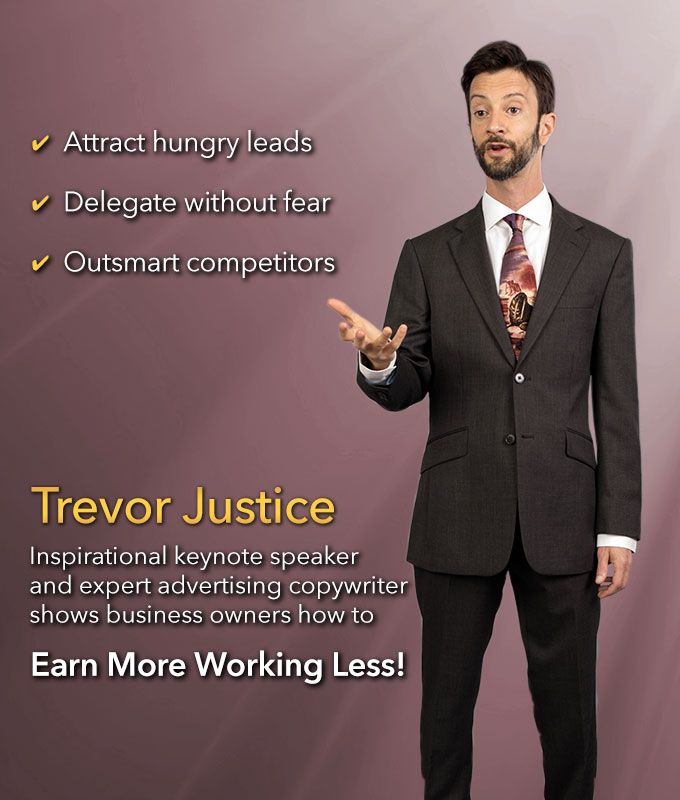 Program #3: Create Fearless Go-Getters Who Never Quit
After this keynote, your agents will feel a new sense of urgency, realizing the cost of not investing in their businesses.
With inspirational songs, humor, and riveting stories about courage, Trevor's quintessential motivational speech on overcoming fear pulls at their heartstrings in a way other speakers can't.
It renews their enthusiasm, breathes new life into their ambitions, and wakes them up for your breakout sessions. (BTW, Trevor is an award-winning songwriter!) Takeaways:
Realize the opportunity cost of waiting.
Be injected with the confidence and courage to pick up the phone, knock on doors, and have conversations even if you don't feel 100% ready.
Discover five risk/reward questions for choosing the right path to your business goals.
Overcome procrastination by making yourself accountable to others. (Because goal setting rarely works when there are no consequences for missing the deadlines!)
Slay your fear of rejection, overcome your fear of failure, and become a millionaire, just like Trevor did.